I'm finishing up a new font, and decided to test it out on social media by telling the story of one of my first design heroes: Fred Gehrke, who designed the first football helmet logo. He's a hero in my mind because he saw a cool possibility where nobody else did, and then just went and made it happen. ⁠⠀
---
Like a lot of kids, I was into pro football, but looking back, I know I was as interested in the uniforms and logos as much or more than the game itself. I had this little book called "The Great NFL Fun Book II" which I read over and over, and still remember some of the jokes ("Which team charges $1 for corn? The Buccaneers!").
My favorite section of the book had photos of every team's logo and uniforms, and for years I made notes when a team changed the slightest detail, down to sock stripes and facemask colors. Yeah, I was a bit different.
The book also had these wonderful cartoons by Jack Davis (of MAD Magazine fame) illustrating key moments in NFL history. The funniest one is probably this, where Packer QB Bart Starr "sneaks" past a frozen Cowboy to score the winning TD in the 1967 "Ice Bowl".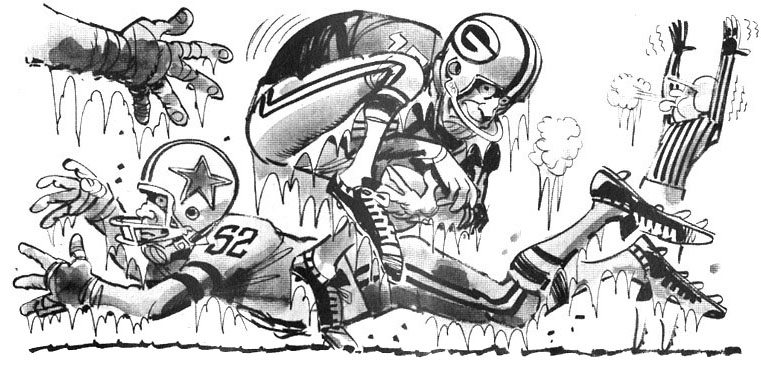 In reality, Starr took the snap, fell forward a few feet and landed face down in the endzone. Not nearly as dramatic.
But the drawing that intrigued me most was this: a guy sitting on a pile of helmets, painting ram horns on each. This seemed so incredibly cool to me — that someone could have a totally original, insanely great idea in their head, and then just happily go about bringing it into the world.
I wanted to do that.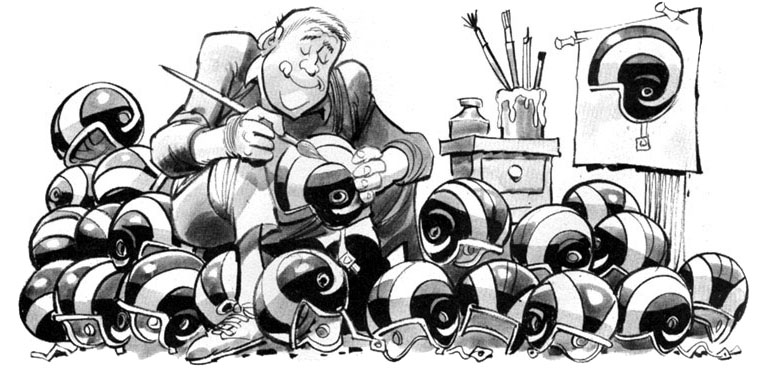 And as it turned out, unlike the Ice Bowl, this cartoon showed it almost exactly how it happened.
---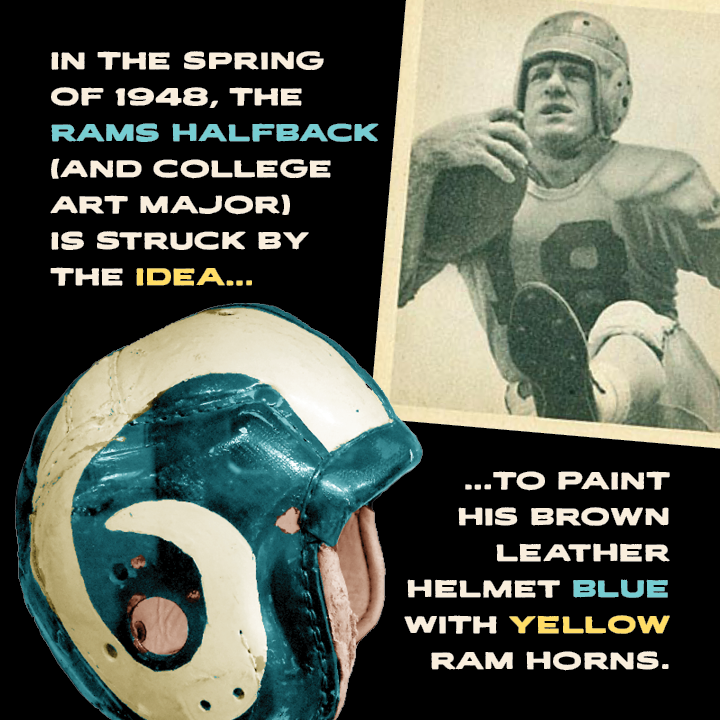 Fred Gehrke was a Rams halfback who was an art major in college and worked during the offseason as a technical illustrator for aircraft companies in Los Angeles. In early 1948, he had the idea to paint the team's plain leather helmets blue with yellow ram horns. In those days, helmets sometimes had a stripe or two, but no one had ever thought to put a logo on one!
While this seemed obvious to Fred, he had to take a helmet home and paint it for his coach to understand exactly what the heck he was talking about.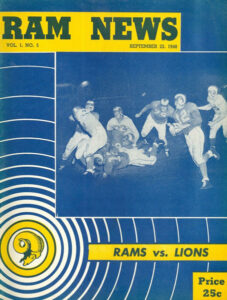 When team owner Dan Reeves saw the helmet, he liked it so much he offered Gehrke $1 (plus expenses!) to paint the rest of the team's 75 helmets over the summer. I'm certain that eight or nine helmets in, Fred was wondering just what he'd gotten himself into.
But when the helmets made their debut on the field, the stunned L.A. Coliseum crowd reacted with a standing ovation! Which might be the first and only time a graphic designer has ever received such an honor.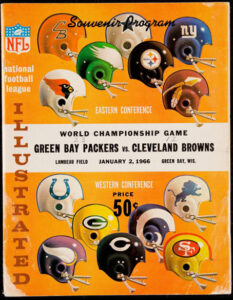 Within a few years, nearly every NFL team had a logo on their helmet, and not long after that, the helmets themselves became icons that the league used to represent each team. I don't think it's an exaggeration to say that Gehrke's innovation was a revolution in the way football teams — and sports in general — are marketed to and perceived by the public.
---
What I admire about Fred personally is that he had this wonderful, totally new idea, and then very graciously and determinedly went about bringing it into existence. Having been a professional graphic designer for a while now, I have learned that having a great idea is one thing, but getting the people around you — especially those in charge — to understand it and buy into it can be another thing entirely.
The Rams' coach, or owner, or even his teammates, could have derided the idea as too goofy or weird or impractical, and no one would ever know he had it.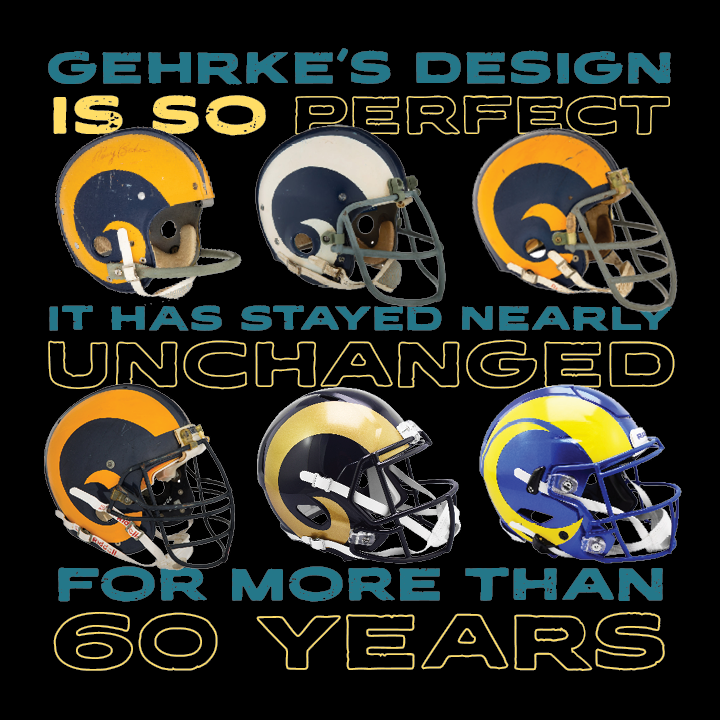 And what I appreciate most about Fred's design is that it was so brilliant and perfect as he imagined and painted it, that hardly any changes were made to it for more than 60 years. Rare is the design with this combination of immediate impact AND staying power!
It wasn't until I found this old book in the garage and opened it up again, that I realized that image of Fred Gehrke happily painting helmets has always been in the back of my mind, and I draw on those lessons every time I start a design. Each time, I hope my idea might have that kind of impact.
And yeah, there have been a few occasions when idea, execution and circumstances align, and I have felt a bit of that thrill Fred must have had every time he saw the Rams take the field wearing his helmets.
In fact, here's one…
---
In 2016 the Rams announced they were moving back to Los Angeles from St. Louis. Uni Watch, a sports uniform website I visit far too often during the workweek, ran a "Redesign the Rams" contest along with ESPN. (Yes, there is such a website, and yes, it's awesome. There's always someone geekier than you…) So of course I had to enter…
My design didn't win overall, but perhaps even better, it was singled it out for the "Best New Helmet". Judge Paul Lukas wrote:
"The reality, of course, is that the Rams' helmet is fine just the way it is. Why mess with perfection? But hey, this is a redesign contest, so there were lots of submissions featuring new looks for the team's headgear. The best one was from John Roshell, who shortened the horns, giving them a bit less of a curlicue, and also gave them some two-color accenting. Not bad!"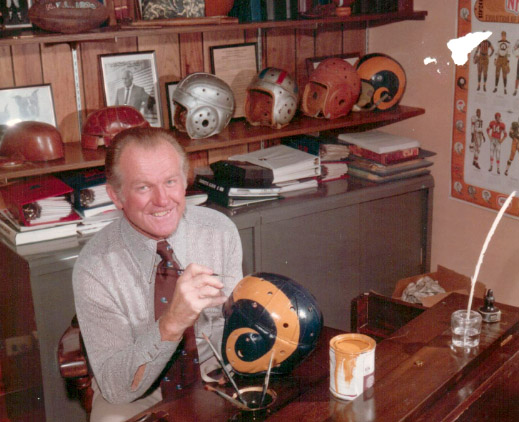 Not bad, indeed! A true honor, in fact, coming from such a fellow uni-aficionado. Plus I got to brag about it to my fantasy football buddies, some of whom thought this meant the Rams would actually use my design. Ahhh, if only…
Fred Gehrke entered the Pro Football Hall of Fame in 1972 — not for his playing career, but as the first recipient of the "Daniel F. Reeves Pioneer Award", named for the longtime Rams' owner who had coincidentally championed Fred's brilliant, original, insanely cool idea.